The clays of southwest England have been used to make pottery since Roman times, and mined commercially since the 16th century when this highly versatile material was used to make tobacco pipes. Since then, the town of Kingsteignton in Devon has become a source of premium quality ball clays (also known as plastic clays) for sanitaryware manufacturers worldwide.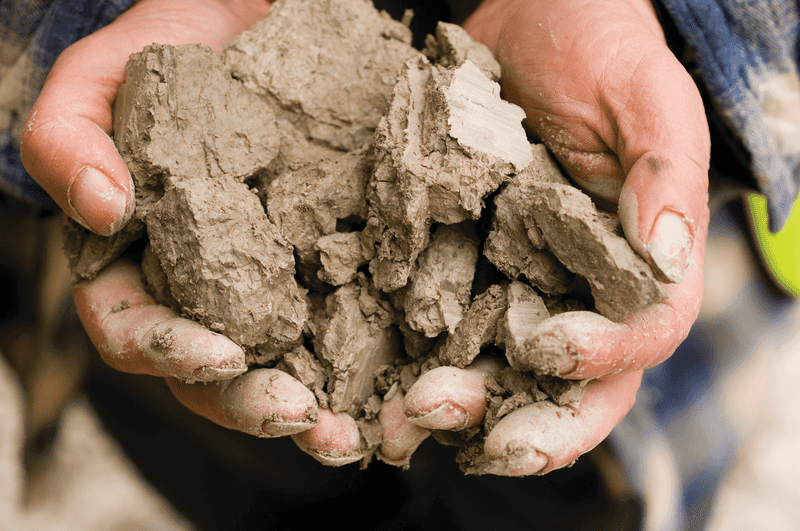 Ball clay
Today, Kingsteignton's famous ball clay deposits are operated by Sibelco, alongside kaolin reserves at nearby Cornwood. Sibelco's involvement in the clay industry began in 1988 when the company took a stake in Watts Blake Bearne (WBB), one of the world's largest providers of ball clay and kaolin with a history that can be traced back to 1710. Having increased its shareholding in WBB in 1993, Sibelco acquired 100% of the company in 1999.
Originally used by pioneering UK potters such as Wedgwood and Spode, a lifting of restrictions on exports of Kingsteignton's ball clay in 1853 opened the doors for international trade. These days Sibelco's range of SANBLEND refined ball clays are delivered to customers around the world, as far afield as South America and Asia.     
Ball clay is a fine-grained, highly plastic sedimentary clay, derived from kaolinite typically moved from decomposed feldspar present in igneous source rocks, such as granite. It is a relatively scarce mineral, valued for its key properties of plasticity, rheology, unfired strength and light-fired colour. Ball clay typically accounts for up to 25% of the body of a piece of sanitaryware.
In 2020 Sibelco opened a new SANBLEND processing plant at Kingsteignton, incorporating state-of-the-art equipment that enables efficient production of higher quality materials with less waste. The plant also uses substantially less energy thanks to the combined heat and power plant incorporated within its design.
The quickening pace of urbanisation continues to propel growth in sanitaryware production, increasing global demand for high-quality ball clay. Sibelco's Kingsteignton operations are at the heart of this, helping Sibelco to support
6: water and sanitation for all by 2030.